Flash XDR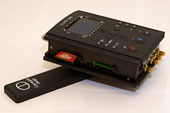 Superb Audio / Video + Tapeless Workflow + ASI I/O1
Overview
Break-through the limitations of low bit-rate 3:1:1 / 4:2:0 sub-sampled (1440x1080) recording and unlock your camera's full video-quality potential.
Unlike Firewire recording drives, which provide no quality improvement whatsoever, Flash XDR captures the never-compressed HD-SDI output using a world-class 4:2:2 full-raster (1920x1080i/p) MPEG2 CODEC at bit-rates up to 160 Mbps (4X to 6X that of HDV).
Flash XDR virtually eliminates motion-artifacts, mosquito-noise and keying problems. Superb 24-bit uncompressed audio (mic or line input) complements the stunning video.
The camera-mountable, low-power, all solid-state design utilizes affordable CompactFlash media to provide 2.4 hours recording time (160 Mbps) using four 48 GB cards! Industry standard MXF file format ensures easy transfer to leading NLE programs with all the benefits of a tapeless workflow, including fast downloads and metadata support. Additional features include 24p pulldown removal, time-lapse recording and automatic backups (RAID1).

Innovative CompactFlash Based Design
Industry-standard, non-proprietary memory
Widely available, low-cost, 32GB costs ? US $150
Hot-swappable, non-volatile, highly reliable
Long-life: 10K Insertions / Removals
Powerful File-Based Tapeless Workflow
Industry Standard MXF (OP-1A) File Format
XML Based MetaData
High-speed transfer via USB, Express Card, or Firewire-800
True "Field" Recorder
Small Size, Lightweight, Low Power, No Fans
Rugged Industrial Design: aluminum chassis with rubberized protective jacket
All Solid-State construction, no heads to crash or tapes to jam
6 User-Programmable Function Keys
16 User-Defined Presets (video / audio setup, metadata)
Locking connectors and lockable keyboard
Multiple units can be simultaneously triggered
Unique Recording Capabilities


Time-Lapse Recording (I-Frame Only)
Pre-Record Buffer
24p Pulldown Removal and Image Flip
Audio / Video Sync Adjustment
RAID 1 (Redundant) Recording Capability
Programmable triggers: GPIO, Incrementing Time-Code, etc.
Outstanding Audio / Video Quality
High Quality Sony MPEG2 CODEC
4X to 6X the Data-Rate of HDV
MPEG2 4:2:2 Full-Raster (1920 x 1080)
Long-GOP up to 100 Mbps, I-Frame up to 160 Mbps
16/24-Bit Uncompressed Audio
Uncompressed 8/10-bit 4:2:2 Option (Fall 2008)
---
How to hire
Simply get in contact with us and we will guide you through the process on the phone
---
Other Hire Equipment
Sony Anycast Station
Sony Anycast Station Option Cards
Handheld Camcorders
VTR Machines
Sony HVR-M15E - Compact HDV VTR [detail]
Sony HVR-1500 - Digital HD Video Tape Recorder [detail]
Flash XDR: Superb Audio / Video + Tapeless Workflow + ASI I/O [detail]
Robotic Cameras (remote heads)
Robotic Camera (remote head) option cards
Sony Optical Multiplex units
Sony BRU-300P (BRU300P, BRU300) - Optical Fibre Multiplex [detail]
Sony BRU-H700P - HD Optical Mutiplex Unit [detail]
Robotic Camera (remote head) operating station
Robotic head composite operating/ monitoring station [detail]
Bespoke mounts for Sony robotic cameras
Wall mount
Floor Stand - Small
Floor Stand - Large
Audience floor stand
Cables & Accessories
10m DV Firewire Cable 6-6 Pin
20m Firewire Cable 6-6pin
Datavideo VP-314 DV Repeater 1 In / 1 Out
Firewire IEEE 1394 BI-DIRECTIONAL DV REPEATER
6 pin to 4 pin adaptor DV Firewire adaptor
Sony CCFC-M100 (CCFCM100) 100m